Neu-Isenburg, September 2023 – We see the Factoring Symposium as an opportunity to discuss current topics, the latest software features and general trends with our customers, partners and interested parties. In 2023, the symposium took place on Thursday, 28 September 2023 – in the efcom office building in Neu-Isenburg. The evening before, we were able to welcome individual participants as guests at dinner, this time in a traditional apple wine tavern in Frankfurt's Sachsenhausen district. Over Ebbelwoi, Handkäs and Schnitzel, there were numerous stimulating conversations, which were ideal preparation for the actual event day. It all started on Thursday with the official welcome by the management, represented by Arnulf Romann, and Federico Avellán Borgmeyer, our Chief Partner Officer. Once again, we could count on Oliver Rölle (Head of Training and Education) as moderator, who guided us through the programme from start to finish.
FCI: Factoring with global growth
During Betül Kurtulus' first presentation, the global success story of factoring was underpinned by figures from the international association FCI. In her role as Regional Director Central, Eastern and South-Eastern Europe & Middle East, Betül Kurtulus described the incredible growth on a global level: In the past 15 years, the worldwide factoring volume has grown from approx. 870 billion EUR in 2007 to 3.7 trillion (!) EUR in 2022. From 2021 to 2022, the first double-digit increase in more than 20 years could even be observed. Europe accounts for the largest share of the global factoring business with 68%, followed by the APAC countries with 24%, South America with 3.4%, North America with 2.8%, as well as Africa with 1.1% and the Middle East with 0.3%. In the European market, France, Germany, the UK, Italy and Spain are among the big players, with the second strongest year-on-year increase in Germany.
In Eastern Europe, the factoring markets in Poland, Russia, Hungary and the Czech Republic are the largest in terms of volume, where there were sometimes high growth rates compared to the previous year. Further topics of the presentation were import and export factoring, reverse factoring or supply chain finance as well as Islamic factoring. The latter is predicted to continue its high growth rates in the coming years. efcom recognised this trend early on and will offer a Sharia-compliant factoring solution in the future. In conclusion, Betül Kurtulus presented which factors are particularly important for business based on her practical experience. Particularly worth mentioning here are investments in further education and training, as well as in suitable software solutions.
Panel discussion: Focus on partners
The panel discussion that followed brought the following of our partners on stage: José Morera from Tech4Fin (Spain), Mateja Čampa from Gora (Slovenia), Miguel Mas from MonetaGo (Spain), Michael Eisler from friendWorks (Germany) and Dana Daboosh from Oracle (Spain). In the course of the discussion, all panellists showed how they contribute to strengthening factoring companies in mastering future challenges. One example is Tech4Fin's AI-based approach "FEM" for automatic invoice matching. A tool that serves to effectively combat fraud and can also be directly integrated into efcom solutions. Furthermore, the services of Gora, our long-standing technical and sales partner from Slovenia, were presented. Their portfolio ranges from core banking and factoring solutions, data warehouse and regulatory reporting to web, mobile and cloud solutions.
Our partner MonetaGo supports companies in minimising risks in the factoring sector as well as in trade finance. This involves the systematic tracking of documents that have been submitted twice. A service that can be accessed worldwide. friendWorks are the professionals in the field of document management: When it comes to OCR-based invoice verification, contract management or audit-proof archiving of documents, the Straubing-based company is at the forefront. In addition, the audience could learn interesting facts about Oracle's Enterprise Cloud offer, which meanwhile extends to 175 countries in the world and is available to more than 500,000 customers. The efcom solution efX can also be provided via the OCI (Oracle Cloud Infrastructure), on all five continents.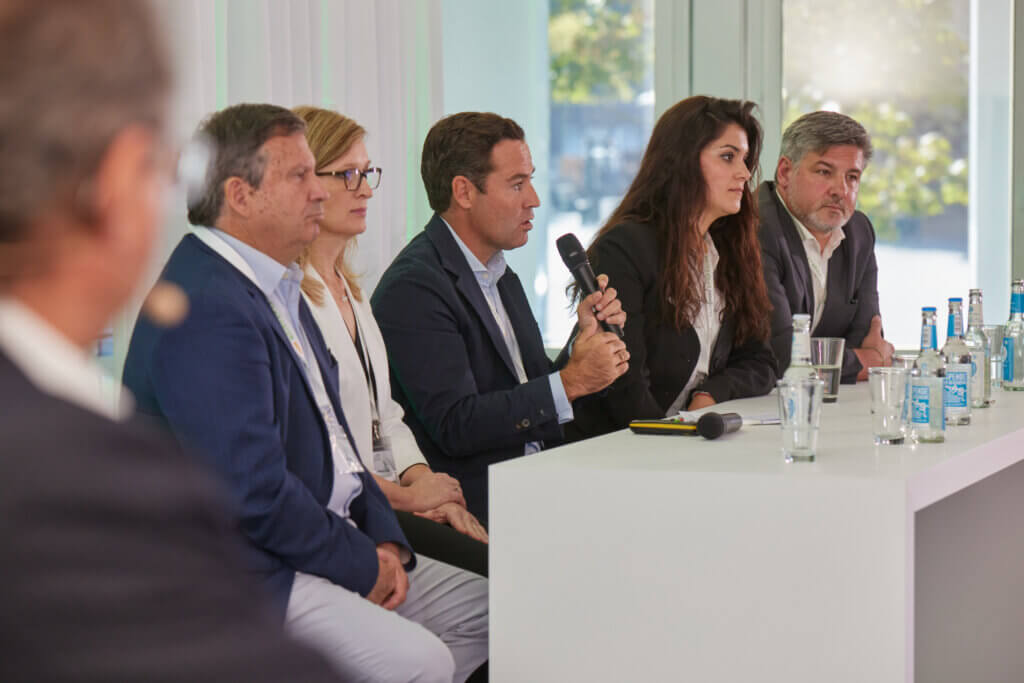 Most important innovations in efX/ef3
Why do we offer efX and what is behind it? Oliver Rölle answered these questions in his lecture and also presented important innovations for ef3 and efX. efX is a usage-based ef3. This means that customers are offered much better scalability via per-use – ideal, for example, for start-ups or smaller companies in transition countries. Depending on demand, the factor can then adjust the use of the software. In addition, efX as SaaS can be accessed at any time, from anywhere and from any device. As mentioned earlier, efX is offered worldwide through our existing distribution partner network.
What innovations have there been in efX independently of this? At this point, we can only mention a few highlights. If you are interested in more, please contact us directly. For example, there are enhancements in the area of embargo functions, money laundering checks, in the handling of limit applications, with regard to evaluations as well as dunning blocks. And the development continues: In his concluding outlook, Oliver Rölle showed which features and improvements are currently being worked on and from which our customers can benefit in the future. In short, things remain exciting around efX and ef3.
efOnline, project management and trends from a legal perspective
Parallel to the presentation on ef3/efX that took place in the main room, three other presentations took place that were no less exciting. Firstly, Michael Petrovic, Product Manager efOnline, and Markus Bienek, Product Manager ef3/efX Webservice, presented the innovations in their areas. 
How are projects managed at efcom? Which factors play a decisive role? To this end, Robert Ivanic in his role as Head of Programme Management and Simon Michaelis as Junior Project Manager provided insights into the internal processes, structures and essential elements of project management. They also discussed efcom's attitude towards project implementation. The fact is that the consistent expansion and restructuring of project management has resulted in increased efficiency – both on the client side and internally.
Christian Faber from the law firm Bette Westenberger Brink presented the global trends in factoring in his lecture. The Model Law to Facilitate Receivables Financing, which was passed in 2023 and will possibly create a new dynamic in the entire industry, was discussed. Another point was the topic of ESG and its consideration in financial decisions. Factoring companies are also facing greater challenges here – keywords include "scoring, rating, taxonomy".
Cyber-Security: Live-Hacking
Speakers often have a hard time attracting the necessary attention during presentations directly after the coffee break. Not so Sebastian Schreiber from SySS GmbH: his live hacking presentation provided a fireworks display of impressions on the topic of cyber security. Or did you know how easy it is to hack into thermostats, USB sticks or other people's mobile phones? All his live hacks were informative and frightening at the same time. Not least the message to be especially careful with wireless keyboards and presentation pointers: These provide hackers with ideal conditions to penetrate entire company systems, hijack them digitally and demand a ransom for the release of data. In practice, such incidents are now commonplace. There is no question that one can and must protect oneself against them. However, it is often the company's own employees who need to be made particularly aware of such issues, as they are very often used as "gateways" for attacks.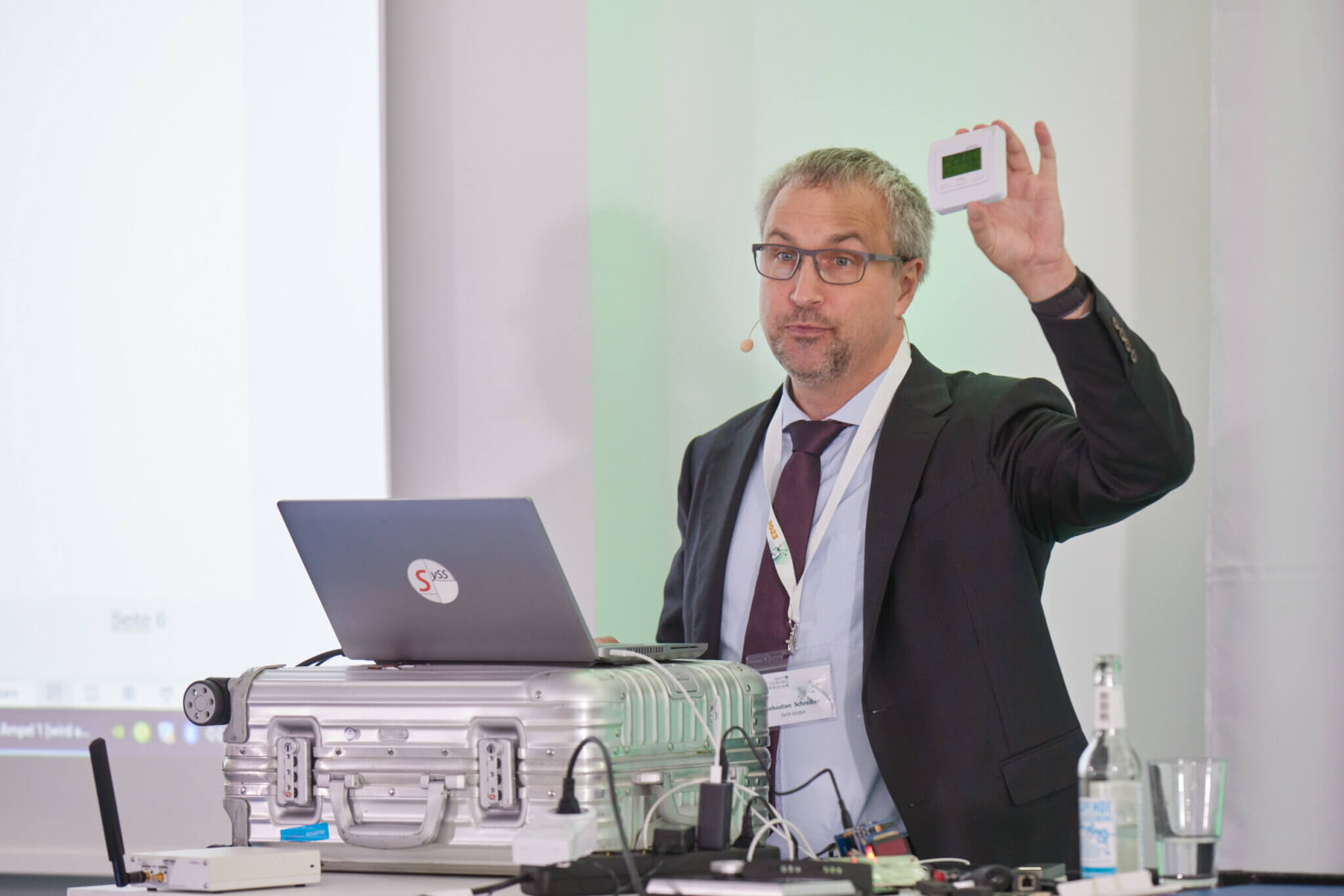 Oracle Cloud Infrastructure: Investing in the Future
"Navigating the AI Revolution: Opportunities and Challenges" was the title of the presentation by Maria Patelkou Konijnenberg, Oracle. After a brief introduction to Oracle and its development over the past decades, Maria Patelkou Konijnenberg (Lead AI infrastructure, graphics & HPC on NVIDIA GPUs at Oracle Cloud Infrastructure EMEA) focused on the topic of AI: What is it all about and how does Oracle contribute on the service side? Ultimately, the use of AI for business purposes is about the handling of large amounts of data – starting with storage through to special applications, such as voice recognition, smart document management or digital assistants. Here, Oracle offers the necessary services independently or in cooperation with other partners, worldwide and with the corresponding clout. One of Oracle's cooperation partners is NVIDIA, with whom they want to further promote the use of AI in the business environment. We see the fact that efcom customers can also benefit from the extensive Oracle network in the context of using efX as an absolute plus.
Predicting risks through the use of machine learning
Wouldn't it be nice if, as a factor, we could predict pretty well whether and maybe even when a debtor will have payment problems? Or vice versa: what if we were shown not only risks but also new opportunities? This is exactly where a current efcom project comes in, which is to evaluate existing customer data with the help of machine learning in order to generate a decisive added value for users. After all, analysing financial documents or recognising possible market and industry trends on the basis of past figures is not enough. It would be idyllic to use the large amount of existing data – such as payment behaviour, invoice due dates, categorisation of customers, etc. – as "fodder" for an intelligent, self-learning system. The potential for the entire industry would be enormous. We have made it our goal to put such an AI-supported application into practice. The background and plans of the project were presented to the audience by Federico Avellán Borgmeyer as well as Harshavardhan Achyuta, Data Analyst at efcom.
Conclusion
Factoring continues to be a global success story, as evidenced by the official FCI figures. efcom can rely on a number of strong partners, both domestically and globally. efX is a usage-based variant of ef3 and offers additional benefits through its scalability and cloud capability, especially for start-ups or companies from transition countries. There are a lot of efX innovations in 2023, which provide a plus from our customers' point of view in different ways. Cyber criminals can cause widespread damage to companies without much effort if they do not protect themselves sufficiently – whether through appropriate technologies or through training and awareness. Oracle sees itself as a global AI enabler and, together with various partners, promotes the use of intelligent technologies in everyday business. efcom is developing a prediction system for risks and opportunities in factoring based on the use of machine learning.